STEP AHEAD IN ROOFING SOLUTIONS
Content
Roofing systems
POIMUKATE metal roofing sheets and accessories
Advantages and particularities of solutions offered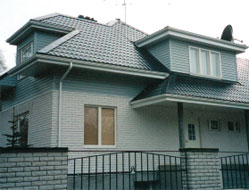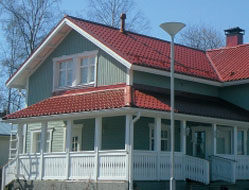 Advantages and particularities of Poimukate metal roofing sheets are:

1) Galvanized steel thanks to which Poimukate metal roofing sheets do not require special efforts under installation and additional maintenance afterwards. All is simple and easy;
2) Double hidden water channel in lapping seam absolutely excludes the possibility of water's penetrating into the roof space that is especially required in conditions of the coastal wet climate;
3) Ideal geometric forms of metal roofing sheets do not allow their installation in the curved way or with gaps. Because of that, invisibility of lapping seams of overlapped metal roofing sheets for eye is provided;
4) Durability is ensured by special coating of face and back sides of metal roofing sheets stretching service term.