STEP AHEAD IN INNOVATIVE SOLUTIONS
Content
Protective covers
Canopies
Description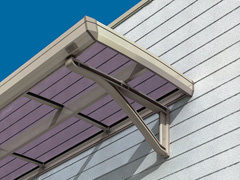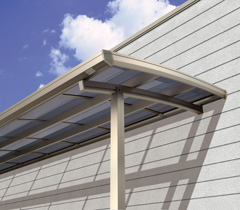 Thanks to unique characteristics, polycarbonate has obtained a wide application in various fields of science and techniques. Polycarbonate is also often found in day-to-day life mainly because of its durability, light weight, reliability and filtration ability of UV rays and IR radiations. Features of polycarbonate specified above have just predetermined its usage as a basic element of a construction of the protective cover. Truly, polycarbonate is very durable and at the same time it is flexible and lightweight – these are components of its success – it is easily fixed between the curved elements of a framework of a canopy providing achievement of two goals: a maximum simplicity of the construction accordingly leading to a light weigh and an economy of the bearing material, and a high functionality level of a final product – a canopy able to endure the hardest conditions of usage – burning sun rays, strong winds and pouring rains. Considering that polycarbonate has a filtration ability, the canopy provides not merely a shadow but a "purified" shadow because of that polycarbonate blocks the UV rays by 100% and the IR radiation by 50%.

A handy and intuitively simple technique of an assemblage of the canopy on any vertical plane – walls, projections, beams and so on – makes it the affordable protective means for everyday ordinary and business life. In addition, canopies bring a particular aesthetic detail to an exterior and an environment, which may be expressed in the first case – in the difference, in the second case – in the motley, in the third case – in the harmony and elegancy. Besides, a look of canopies corresponds to the best designing traditions, in view of that the canopy for example over a front door should be approached not simply as an awning but as an important addition embellishing an entrance, apart from variants of its usage over benches in a garden, cash machines, public telephone call-boxes, outdoor retail points.

For the sake of justice, one more important particularity of polycarbonate canopies should be noted. As against conventional awnings and sunblinds, creating shadows at the expense of blocking the light flux and so designed for daylight, the polycarbonate canopy does not block it that stretches a service period during a day since dawn until dusk.

Thus, FURQAN Company offers canopies which are distinguished with the universality; they are applicable everywhere and their functionality do not depend on weather conditions and seasons.