STEP AHEAD IN ROOFING SOLUTIONS
Content
Roofing systems
POIMUKATE metal roofing sheets and accessories
Description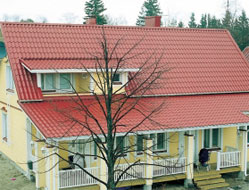 Poimukate OY private family company is the oldest and at the same time honorary enterprise in Finland for which manufacture of quality roofing materials is an affair of honor and traditions. 50 years` activity of Poimukate OY – is the best evidence of company's professionalism and high reputation which every year invests considerable funds into new production lines to ensure a high quality of roofing materials.

Poimukate metal roofing sheets are a result of researches of many years comprising the most advanced achievements in the field of roofing coverings development.

Core material for Poimukate metal roofing systems is a two-sided galvanized steel sheet with thickness of 0,45-0,5 мм. that specifically processed in respect of hardness and durability.