STEP AHEAD IN ROOFING SOLUTIONS
Content
Roofing systems
KATEPAL flexible roofing shingles and accessories
Description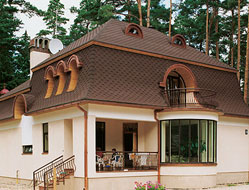 Katepal OY is one of leading manufacturers of roofing products in Finland. Since 1969 Katepal OY manufacturers bitumen-based roofing shingles – the flexible roofing material comprising solidity of the stone and suppleness of the modern bitumen.

Thanks to flexibility of KATEPAL roofing shingles they can be the same way installed on any type of the roofs: both flat and vaulted.

Base of Katepal shingles is thick nonwoven glass canvas each side of which is covered with high quality bitumen. The upper layer of the shingle is covered with small colored stone granules of various colors highly resistant to fading. Granules protect shingles from mechanical and climatic damages ensuring long-term service. The lower part of the shingle is an entire self-adhesive layer of high quality modified bitumen considerably easing an installation.

A particular geometric form of Katepal roofing shingles serves for both aesthetics and installation on special technology providing overlapping of seams completely isolating susceptibilities for moisture and nail-heads. As a result, 100% impermeability of the roof is achieved.

Procedure of the installation is simple and safe and does not require special tools. Katepal shingles ate installed on the beforehand prepared smooth surface in accordance with "groove-ridge" system by a self-adhesive method followed by fixation with roofing nails.