STEP AHEAD IN INNOVATIVE SOLUTIONS
Content
Protective covers
Carports
Advantages and particularities of solutions offered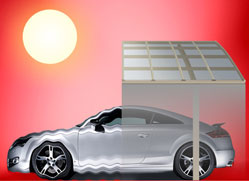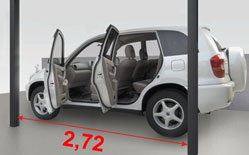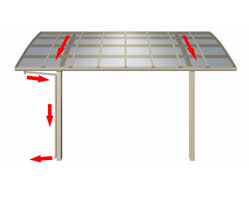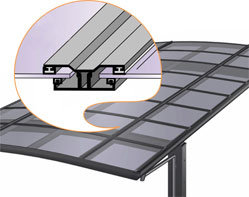 What do you get when procuring carports from FURQAN Company?

First of all, a technologically perfect product of high quality manufactured in one of the world's leading economies – Japan. Secondly, a remarkable constructive solution finding its application not only in parking places for automobiles abut also in the most unexpected situations: as an awning over a balcony and a front door, for a country picnic and at the beach coast, as a better sunshade substitute at the outdoor cafes and open air retail places. Shortly, an area of application is quite wide. Thirdly, a feeling of confidence that comfort and heat are coinciding things – a polycarbonate carport blocks the UV by 100% and the IR by 50% radiation preventing for example a salon of a parked car from overheat and sultriness. Fourthly, a reliable construction that can endure heavy loads during bad weather – snow load by 60 kg/m2, wind pressure by 120 km/h and pouring rain. Hardness of construction elements and a special assemblage scheme of their secure fixing are designed for this endurance ability. So, these carports serve as a shield against not only burning rays of a sun, they are all-weather, their functionality does not depend on a season. Fifthly, additional aesthetics that will surely embellish environment.

A combination of features peculiar to described carports permits to use them for the most variable tasks and adapt virtually to any architectural landscape of both dynamic megapolises and calm suburbia – the "filtered shadow" provided by these carports is wanted everywhere. In addition, the construction itself of carports ensures their successful compositional using – making up a complex of carports of various geometric forms for example for spanning more wide space, shadowing the definite space, under developing some stylist approach in town-planning schemes and so on. Such a compatibility is provided by the constructional universality of carports presupposing a variety of use from the very outset variants of that broadens horizons of practical application in accordance with not only individual but also collective wishes and demands. Thus, the protection for not only one car but also tens of vehicles in the parking center can be provided by installation of carports in the form of "M". A summer restaurant with unrepeatable modernist aura can be also organized by combining carports lengthways and across either in the form of "M" or "Y" over tables. Moreover, carports can be installed one after the other in a row in front of shops for shadowing selling fruits and vegetables with a purpose of conserving their freshness and mellowness.